03-14-2019
Join Date: Jul 2017

Posts: 2,874

Thanks (Given): 0

Thanks (Received): 956

Likes (Given): 905

Likes (Received): 705

Dislikes (Given): 1

Dislikes (Received): 2

Rep Points: 1669

Repulation :
The Stone Killer 1973 1080p BluRay H264 AC3-Dany
---
The Stone Killer 1973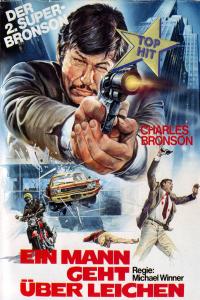 Year:1973
Country:USA
Genre:ACTION
Quality BDRIP
Language:ENGLISH GERMAN
Subs ENGLISH


Director:Michael Winner
Starring:Charles Bronson, Martin Balsam, Jack Colvin

Top detective Lou Torrey is transferred to Los Angeles and uncovers a plot by a Sicilian mafioso to use Vietnam veterans to murder all his enemies in a rerun of the "Sicilian Vespers" when the previous generation of Sicilian mafiosi were all killed on a single day. Torrey gets various clues that something big is about to happen but will he discover what is planned before the big day ...






Top-Detektiv Lou Torrey wird nach Los Angeles verlegt und entdeckt eine Handlung von einem sizilianischen Mafioso, um Vietnam-Veteranen zu benutzen, um alle seine Feinde in einer Wiederholung der "sizilianischen Vesper" zu ermorden, als die vorherige Generation der sizilianischen Mafiosi alle an einem Tag getötet wurden. Torrey bekommt verschiedene Hinweise, dass etwas Großes passieren wird, aber er wird entdecken, was vor dem großen Tag geplant ist...







File Size:8129,02MB
Resolution:1920x1080
Duration:95,10min
Format: MKV
VIDEO AVC 23976fps
BITRATE 8000KBPs
AUDIO AC3 48,0KHZ

PASSWORD-DANIEL
FOR FILE REUP SEND MESSAGE


Please, when you download from my topics leave a quick reply and help keep the thread alive.That's the best way to support me. Thank You!